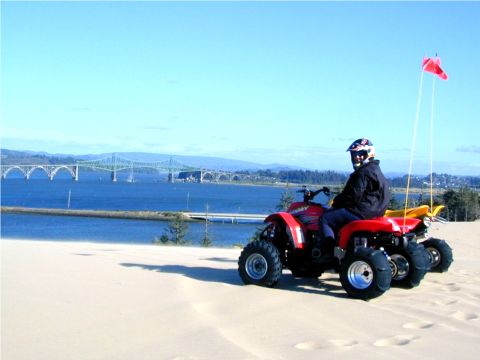 Coos Bay is by far my favorite dune in Oregon. It has a little bit of every type of dune riding terrain you can think of. It has trail riding, Steep hill climbs through the trees, large bowls, racing flats and hills, beach access, and small rolling dunes that are great for launch pads for those of you who like to jump.
We ended up staying at Horsfall campground at the south end of the dune. We stayed here because it is strategically place closest to the large dunes and steep hill climbs. Just a half mile out of camp there is a hill called Boxcar. You will know you are in the right place when you see it because there are train tracks that dead end here at the bottom of the hill. Many people like to race up boxcar because it is a steep, long hill that is wide enough to allow about 6 or so bikes to line up for competition. There is also camping at the North end of the dune called Spinreel. I have not camped there yet but have heard that there are only small dunes around that area.
If you follow along the train tracks you will find many steep hill climbs that weave through large fir tree forests. There are very challenging because you have to weave and maneuver around large roots and to avoid bending rims and plowing into trees. If you have a two stroke it takes a lot of double clutching and working the throttle.
If you are planning on going to the beach there is only one access road. The way to the beach is down a 3 mile trail full of whoops called Hauser Rd. If you are coming from Horsfall the best route is to go down the middle of the dune until you get to the road. Try not to do too much playing around on the way or you may find yourself running out of gas on the way back from the beach. To get to the beach from Horsfall via Hauser Rd is about a 12 trip one way. I would say it is worth is to see the view at the beach.
Other areas in the dune I suggest you visit is Razorback, V-8 Hill, and Bull Run. Razorback is in the middle of the dune and is one of the steepest bowls at Coos Bay. V-8 hill is a wide and long dune that is perfect for racing any kind of sand vehicle. Bull Run is along the beach. It is very smooth and is great for open throttle riding. It only has a few medium sized dunes that you have to slow down for but the rest is balls to the walls riding.
I suggest that you visit Coos Bay dune. It has all types of riding that accommodate any skill level.
For more information about Coos Bay Click on link below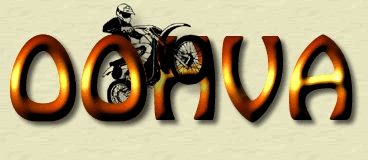 Coos Bay Links

Coos Bay Weather
Driving Directions